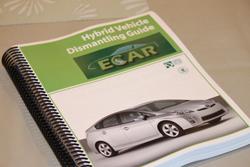 NEW! Hybrid Vehicle Dismantling Guide
Now Available!
The Automotive Recyclers Association's Technical Advisory Committee Hybrid Vehicle Workgroup, working in conjunction with the Environmental Compliance for Automotive Recyclers Center, showcased the first edition of the Hybrid Vehicle Dismantling Guide at ARA's 68th Annual Convention in Charlotte, NC in October.
The first of its kind to be developed specifically for Hybrid vehicles, the Guide educates automotive recyclers on the safe and efficient dismantling of Hybrids, as well as their differences from other vehicles. With the popularity of Hybrids on the rise, these green recycled parts will increase in demand. The Guide serves to assist automotive recyclers prepare for the rise in this consumer market segment.
This Guide includes an over-view chapter and specific section modules for the Prius and Honda hybrids. Each section of the guide is organized into topics on vehicle identification components and locations, description and operation of specific hybrid parts, safety measures, and removal procedures.
The Guide is now ready for wide distribution to automotive recyclers in either book form or on CD for the price of $99 each, plus shipping and handling.
Cost is $99 for a Printed Guide or a CD, plus shipping and handling.
Click here to get the order form, and order one for your facility today!